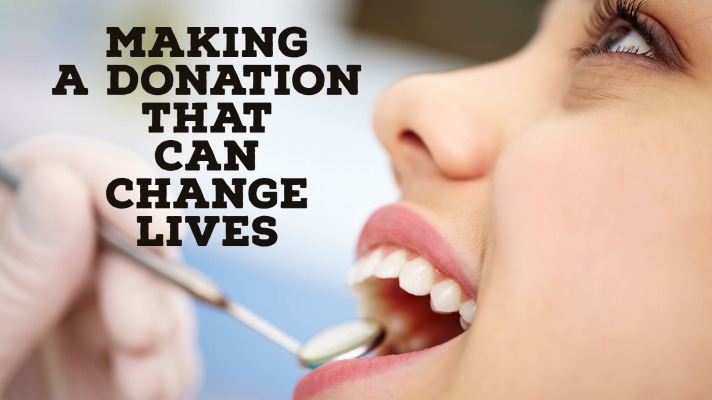 For many people meeting their dental care needs is a struggle. There are different reasons that people cannot meet their dental care needs. Not having access to dental insurance or not knowing where to go to find affordable dental care is a dilemma that many Americans deal with.
A recent study found that nearly half the population is not happy with their smile. Of course, aesthetics is only half the story. Millions of people walk around in pain every day because they cannot get their dental care needs met. Luckily, there are organizations that are trying to change things.
Oral Health Problems
It was not too long ago that oral health was thought of as something that is separate from physical health. Things like braces were thought to only be necessary to improve appearance. Today, we know that good oral health and good physical health go hand and hand. We also know that options for straight teeth are not only about improving confidence but they are about helping to keep teeth healthy.
Why then do so many people have a difficult time get their dental care needs met? That is a hard one to answer. Dental care is not a luxury it should not be treated as such. Study after study has shown that good oral health plays a vital role in good physical health. Recently a study revealed that gum disease (which often comes from poor oral health) is linked to heart disease. Yet getting dental care needs met is still a challenge.
When you sit back and consider how many Americans right now do not have access to health insurance or cannot afford to see a doctor when they are ill, it makes it a little easier to understand how going to a dental clinic for oral health care can be difficult. The United States as a whole is in a general health care crisis.
We are one of the few developed countries in the world that do not offer some sort of universal health care plan that every citizen regardless of income has access to. Getting any type of health care never mind getting oral surgery can be impossible.
What can you do if you cannot get your dental care needs met? There are organizations that are out there that can help you.
The Gap Is Huge
In the United States there is a huge gap when it comes to getting dental care needs met. Typically, if you are very poor then you can get government funded dental insurance. If you are well off then you can easily afford your own dental insurance or to pay for care outright.
The gap is the "in between". The in-between people are the people that are right above the poverty level that are not eligible for government-funded programs, but by far, not wealthy enough to afford their own dental insurance or pay for care out of pocket.
This group makes up about 45% of the US population. This "working class" group may or may not have health insurance but rarely have dental insurance. Budgets are typically tight in these households and affording things like braces for teens is not in the budget.
People are working hard and are still struggling to make ends meet. Unfortunately, going to the dentist can be cost-prohibitive for many people. Of course, this can turn into a vicious cycle.
Tooth pain can keep people from working. Missing work often means not getting paid for the time that is missed, which of course, puts more pressure on the budget. A simple cavity that could be filled can turn into something much worse that can really impact someone's health.
Addressing oral health needs early on can ensure that people at risk can offset any increased problems including loss of income. Meeting dental care needs is vital to the individual and the greater community.
The impact of not getting dental care needs met has a snowball effect to it that is far-reaching. Children that are not able to get dental care needs met miss a lot of school due to mouth pain. Of course, study after study has shown how important school attendance is to learning. Their education is impacted by their ability to attend school. It can be hard to go to school when your teeth hurt.
The scars that are left when a child cannot get their dental care needs met can affect them for a lifetime. Other children can be cruel in the things that they say and that can play a role in how a child develops and looks at the world.
Dental health is so important for so many reasons. Being denied dental care simply because of your economic station in life is simply awful. Being a part of the solution can really be satisfying.
Changing Things One Smile at a Time
One of the biggest questions that dental professionals face is the "how". How do you meet the dental care needs of millions of people? You start with education. You educate children about how to care for their teeth. You educate the parents, and you provide resources that can help to meet the dental care needs of those that are falling in the gap.
Of course, it is larger than a single dentist or even a single group of dentists. It is a problem that has to be addressed by multiple groups. Making a dent in the problem is a huge undertaking that literally takes a village of groups to do.
The Groups that Help
There are groups that are focused on providing gentle dental care that includes a wide range of services at low or no cost. Most of these groups were started by dental professionals because dental professionals understand how skewed the health care system in the US is.
Whether you are struggling to get your dental care needs met or you want to make a difference in someone getting the care that they need, there are dental groups that you can contact.
Here are some groups that can help and are worthy of your donation:
Dental Lifeline Network-The Dental Lifeline Network focusing on providing dental care for those members of our community that are the most fragile. They provide dental care services to the elderly, disabled and at-risk individuals that cannot afford dental care needs.
American Dental Partners Foundation- This group is bettering oral health in their communities through education and community care. They began the Oral Health Improvement initiative and provide dental care services to underserved populations.
Give Back a Smile was started by the American Academy of Cosmetic Dentistry. The program helps to restore smiles for victims of domestic abuse and sexual assault.
National Children's Oral Health Foundation-this foundation supports community programs that serve children and others. They provide grants and resources to help communities improve oral health care.
Dental professionals are very active in helping people to meet their dental care needs. In many instances, there are low-cost dental clinics that offer options for orthodontic braces, restorative options, general care, and more. Addressing the needs of Americans that work hard and cannot afford dental care is a priority for many dental professionals.
These dental groups are helping people to find the support that they need and to fill in the gap for many working-class Americans. Oral Health America is another example of a national organization that was instituted to help people find support for their dental care needs.
The OHA focuses on providing education to help increase dental health literacy. They donate dental donate products and have joined Smiles Across America. Another great group that is trying to improve oral health across the US is America's Dentist Care Foundation-Mission of Mercy.
The Mission of Mercy facilitates the delivery of charitable oral health care. To date they have served 254,000 patients at a cost of $166 million dollars. This group has written grants for things like orthodontic braces, surgery, restoration, and dental exams for children.
Good things are being done by all of these groups that greatly impact a person's life and have far-reaching effects on their future. How you feel about your smile and your oral health matter in every area of your life. For children, that have dental care needs to be met it can change not only how they see themselves but how they see the world. For adults, getting dental care needs met can mean the courage to improve themselves, and find success.
Why Are These Groups Worthy of Your Donation?
The impact that you can have on someone that needs support for their dental care needs can be tremendous. For example, choosing a group that focuses on helping educate children about good oral health practices is a great way to prevent other more expensive oral health problems down the road.
Equally important are the groups that support low to no-cost dental care activities in the community. Keeping people's oral health up to par ensures that people can continue to support their families through employment.
The fact is it is hard to get out and look for a job when you are ashamed of your teeth. It matters to employers how someone representing their company looks, how they greet people, and whether they come across as being friendly or not. Many positions that are available require someone to interact one on one with customers. A healthy smile can give someone the courage that they need to get out there and find a job.
Imagine a woman that is trying to get a fresh start after a domestic abuse situation and every time she looks at herself in the mirror she is reminded of the situation that she is fleeing because of her smile. Give Back a Smile helps to empower these abuse victims and restore their smiles. That new smile can give a woman the confidence that she needs to never look back and keep moving forward in a positive direction for her and her children. Imagine the difference your donation can make in that type of situation. You literally are giving someone a new lease on life.
Supporting one of these great organizations can easily help to change a life or many lives. There is a lot of worthy organizations out there that are trying to help people and it can be hard to decide which one is the right one for you, but you should consider making a gift to a group that is focused on putting a smile on someone's face.
Donate Your Time
If you are a dental professional you can donate your time or get involved. Reach out to these organizations and ask how you can get involved. Choose the group that is nearest to your personal preferences then finding out about starting a chapter in your own community.
Many of these groups are focused on educating the community about oral health care and additionally in setting up volunteer services, find out how you can help. How can you spread the word about oral health care? Consider some of the following ideas:
Go visit your local elementary school. Coordinate with your local school and see about coming to talk to the kids about oral health preventive. Donate toothbrushes to your local school.
Offer some pro bono services. If you are a dental hygienist connect with community clinics to find out when you can volunteer your time. If you specialty is orthodontics start a clinic in your community.
Offer other services. If you work for a lab offer discount or free services once a month.
There are plenty of ways to help if you are more of a hands-on person. Of course, cash is always a welcome and it is tax deductible. Helping people get the dental care that they need is only part of the process. Educating people is also an important part of the process.
The difference you can make by keeping these groups in mind when you are looking for a place to give some of your time or some of your money can be tremendous. People deserve to get their dental care needs met.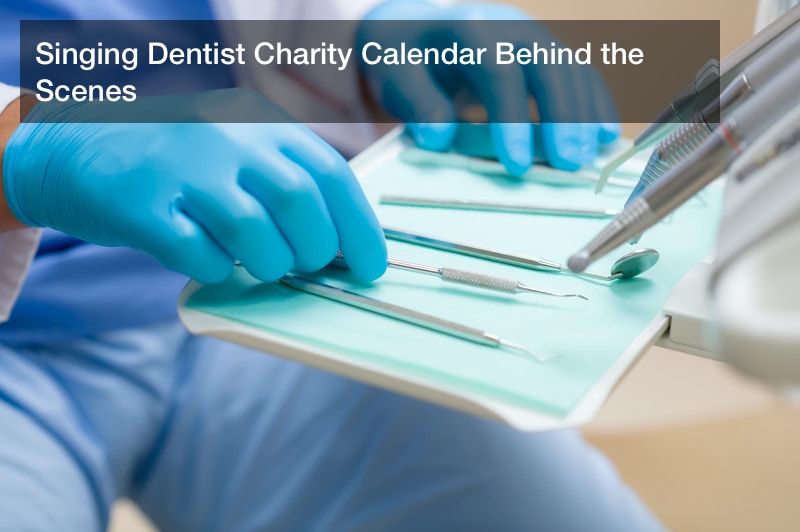 The dentist's office is not generally thought of as a fun destination. It is filled with scary instruments, scowling doctors, and tooth pain. But, as the video shows, the people working there are human too. Henry Schien Dental, a company that sells supplies to dentists and orthodontists, created a fun calendar from an office photo shoot. While it is unclear in the video if these are actual dental staff members or models, the rapid-paced behind the scenes footage shows a very fun, silly, and human side of the medical profession. This is capped off by the calendar photos, which are all bright, attractive, and themed to the appropriate months.
It can be difficult for those who don't work in medicine to see healthcare workers as people. In fact, the media often portrays them as almost superheroes. They save lives every day and show no signs of slowing down. While the reality is much more likely to show burnout and exhaustion in these workers, this isn't what shows up on the news or in online tributes. So for many, doctors and dentists are these unreachable figures. Since they are so high above common humans in their eyes, they might be more hesitant to make appointments or otherwise interact with doctors. This can be intensified even more with dentists and orthodontists, since they work in the mouth and there is no choice but to be vulnerable with them.
Things like a silly calendar or social media dances serve not just to blow off steam in a high-stress work environment, they also show viewers the silly, fun side of these jobs. A doctor doing a Tik-Tok dance might be still a skilled surgeon who saved multiple lives that day, but they are also shown to be a human being who laughs and listens to music. So if other people can see doctors and dentists in this light, they might be less afraid of them. This can have a major impact on the quality of care that doctors can then provide for their patients. The patients will be more willing to actually come into the office, meaning they won't miss annual wellness checks. Since these wellness checks are happening, doctors can find small problems before they become big problems. This saves more patients time, money, and potentially their lives. This lifesaving impact comes back to things like calendars and Tik-Tok dances. By showing their human side, these medical professionals are doing even more good for the world.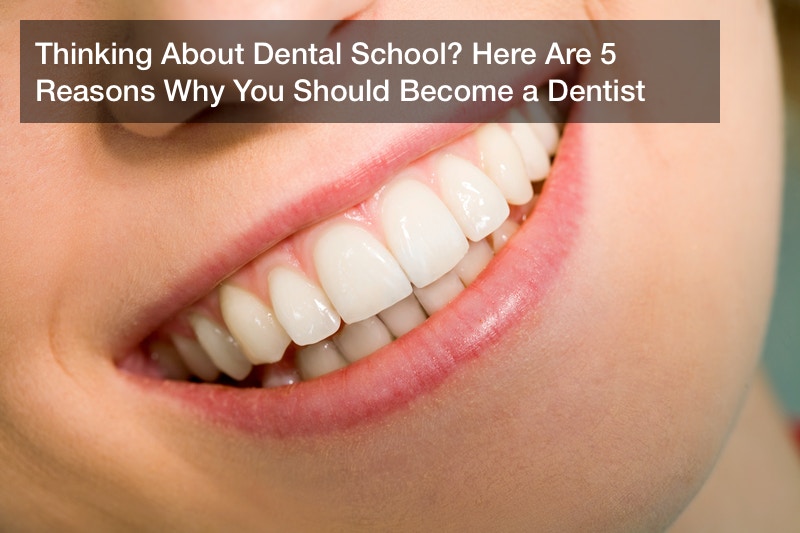 The field of dentistry is enticing because it offers so many fantastic benefits. Becoming a dentist allows you to make a significant impact in your community. You can help people improve their overall health, eliminate pain, and boost their self-confidence. Dentistry is one of the best well-paying fields in healthcare and a respected profession in the eyes of many people around the world. If you've been thinking about dental school but are still on the fence, here are five compelling reasons why you should become a dentist.
You Can Work With a Variety of People and Ages
One major reason why you should become a dentist is that you get to work with a variety of people of all ages. You can work in family dentistry and take care of both children, teens, and adults. Dentistry allows you to have life-long relationships with people from all walks of life. You can learn about various cultures and be there for people during the most significant events in their lives. You'll get to share in celebrating their birthdays, holidays, births, weddings, graduations, and other important life events.
Each day as a dentist is unique because you get to work with new people with different dental challenges. A typical day in your practice could start by helping a family get routine exams done to get their children ready for school in the fall. Your next patient may be an elderly woman in need of dentures. The next patient you help might be a teen in need of braces or veneers, and another patient may need a tooth extraction or root canal. With the varying needs, you're sure to stay active and kept on your toes the entire time you're working in your dental practice.
It can bring you a great sense of satisfaction and joy helping an elderly client with new dentures or celebrating with a teen the day their braces are removed. You can experience a sense of pride for a job well done after each procedure. As a dentist, you can help a child or an adult overcome their fear of dental appointments. Many dentists work with low-income families that may not be able to afford dental insurance, providing them the care they need. By improving their oral health, you can help people with limited dental options live longer and happier lives.
Working to help people of minority cultures can be a great reason as to why you should become a dentist. Certain cultures can often be misunderstood or undertreated due to their socioeconomic status. You can impact the dental health of minority populations by choosing to make them part of your client base. You'll be able to learn how to adjust your treatment options to work with varying religious beliefs and cultural perspectives. This can help you develop great empathy and understanding for people from all walks of life.
You Can Continue Research and Become an Expert in Specific Procedures
Another reason why you should become a dentist is that you may love to be intellectually stimulated. As a dentist, there is always something new to learn. Everything you do as a dentist is based on medical research. You can research the latest advancements in medications for treating adult diseases to improve your patients' lives. This research can help you in educating your patients about disease prevention and things they can do at home to improve their oral health.
As a dentist, you may get opportunities to educate the public about dental care through conferences and seminars in your community. To become a top dentist in your field, you'll continue your educational training long after dental school by reading trade magazines, conducting online research, and taking annual courses and training in new developments. If you have your own practice, you'll have to stay on top of ways for growing and expanding your business. You'll need to learn how to use new types of equipment and software for accurate medical records and handling insurance claims.
As you gain experience as a dentist, you can become an expert in a variety of procedures. You can work with new tools and technologies to assist a patient with a dental implant, braces, dentures, or other dental devices. Dentists can receive a tax credit for research and development in their own practice, which can be a great reason as to why you should become a dentist – especially if you love being intellectually stimulated. This tax credit is for working on complex procedures, creating new processes, testing prototypes, and using an in-house lab. This research helps lead to scientific advancements that can help people far into the future.
You can also learn through research in your own private practice. As you work with clients, you can tweak techniques to improve them to better serve your clients. You may discover that small adjustments when you move your hand can make certain dental processes easier and faster. You may encounter a client with a rare medical condition and have to figure out the best course of treatment. It's possible that you can make your own scientific discovery while working in your practice that will impact dentistry for future generations.
You Can Make People Smile and Feel Good About Their Appearance
Approximately half of the population is dissatisfied with their teeth because they are discolored. Helping people achieve bright, beautiful smiles is an excellent reason why you should become a dentist. Cosmetic dentistry improves both the function and aesthetic appearance of the mouth and teeth. You can help boost their confidence with teeth whitening treatments and correct crooked teeth with braces or aligners. A lack of self-confidence because of appearance can unfortunately lead to depression, anxiety, and social isolation.
By helping people with their smiles in your dental practice, you can empower your patients to express themselves freely without stress or worry about the opinion of others. They won't have to worry about the way they eat in public or how to pose for pictures with family and friends. The work you do can help people advance in their careers or help them find the love of their lives. Your patients can start enjoying their favorite foods again that they couldn't eat because of dental problems. With proper dental care, your patients can avoid serious medical issues from developing that can significantly impact their life and shorten their lifespan.
The way you care for your customers during appointments can have a huge impact on how they feel about themselves. A few kind words can be comforting to a child who was bullied for the appearance of his teeth. Giving your patients news that their dental issues can be fixed can make a difference in their mental health. The way you treat your patients can help them overcome fears about going to the dentist. This can positively influence their decisions about cosmetic dentistry so they can be confident in enhancing their appearance.
Replacing missing teeth with dentures or implants can affect the jawline and help your patient look younger. If you've ever had a toothache before, you know how painful it can be. It can also be disfiguring to the face due to swelling from infection. You can help your patients relieve this pain and reduce facial swelling so they can be productive in their everyday activities. Your positive impact will ripple through the work your patients do to affect a positive change on others in their lives.
You Can Start Your Own Business
One of the best reasons why you should become a dentist is because you can be your own boss. You can choose your rates and the hours you wish to work. Four day work weeks are common for many smaller practices, which can help you from experiencing burnout. You get to have your own office space and specialize in a dentistry niche of your choosing. By owning your own practice, you can make more money than you would if you worked for someone else.
Having your own dental practice can help you reach your financial goals much faster. When you work for someone else, you're given a set salary and can be terminated at a moment's notice. You may also be required to sign a non-compete clause. If you get fired, it can limit your opportunities for future employment. As a business owner, you can build an asset that you can sell when you decide to retire.
The average salary for a dentist who works as an employee is around $167,000 per year. A dental practice owner typically makes $197,000 per year on average. If you specialize in orthodontics, you can make around $330,000 per year. It's important to consider that you'll have overhead expenses as an owner that you wouldn't have as an employee. However, you can still make more money working for yourself than someone else.
Another reason why you should become a dentist with your own practice is that it gives you the ability to better control your own job security and operational control. By starting your own dental business, you can choose who you work with. You can either hire employees directly or acquire them through staffing services where you live. Having your own practice allows you to implement your own systems and provide services in your own unique style. You can choose the location for your dental practice and the type of equipment you'll use to treat patients.
You Can Attain Responsibilities as Your Own Boss
Being your own boss is an enticing reason for why you should become a dentist. It can help you grow as a professional by attaining skills and responsibilities you wouldn't have otherwise. You'll learn how to train and manage staff and improve your abilities in communication and delegation of tasks. Dentists who own their own practices learn how to develop business accounting and management skills such as profit and loss statements and payroll reports. You can tweak your practice as you see fit to control costs and increase your overall revenue.
As your own boss, you'll learn how to handle working under pressure to serve as many clients as possible. You can develop your computer literacy skills as you manage patient records and insurance claims. Your critical thinking and problem-solving skills will get a workout as you formulate treatment plans to treat specific conditions. Your customer service skills can get a boost from working with patients of various ages and cultures. You'll also develop your marketing and social media skills as you look for ways to grow your practice.
Being your own boss can help you learn more about insurance, which will provide you knowledge that will help you better serve your patients. You'll gain experience and knowledge about the various dental products for your clients to help keep them safe. By learning how to choose the right insurance, you can protect yourself from product liability lawsuits from defective products.
All of these skills and responsibilities can be transferred to other areas of your life, which is a good reason why you should become a dentist. By learning how to manage your finances as an entrepreneur, you can take better control of your household budget. You'll learn how to effectively manage your time and juggle many responsibilities at once. Seeing the issues your patients go through will motivate you to be more proactive about your own health. You'll improve the relationships in your own life from your experience with customer service for your patients.
Dentistry can be a challenging but highly rewarding career path. Before you start your journey, get clear on why you should become a dentist. Think about what will drive you to get out of bed each day to make you eager to get to work. If you love to learn new things, work with your hands, and take care of others, dentistry is a great field choice for you. Now that you know why you should become a dentist, it's time to start your journey by enrolling in dental school today!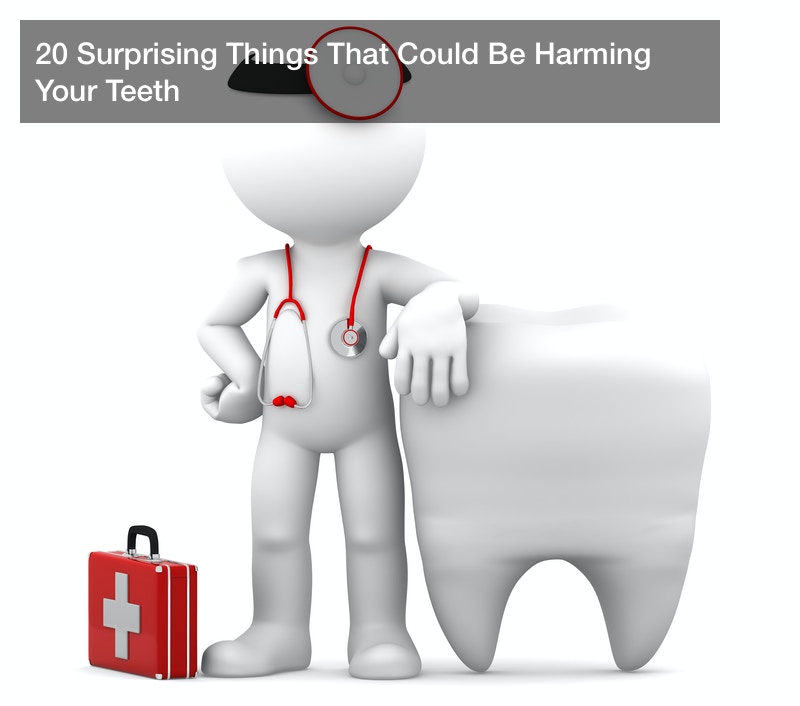 Good oral hygiene practices can give you more than just a beautiful smile. Caring for your teeth can prevent tooth decay, bad breath, and gum disease. There are many widely-known villains to oral health care, including candy, fizzy drinks, and not brushing at least twice a day.
However, you may not be aware of everyday foods, drinks, and activities that could be harming your teeth. You probably did not know that the cough lozenge that keeps your throat clear is full of sweeteners. How about the improperly-balanced chemicals in your community swimming pool? Here is a list of 20 surprising things that could be damaging your teeth and tips on how to protect your oral health.
It is important to note that a number of the listed items may have some overall health benefits. You may not have to eliminate such foods and drinks from your meal plan altogether. This post places a focus on the potential negative effects that they may have on your teeth. If unsure, kindly consult your dentist.
Here are the 20 surprising food, drinks, and activities that could be bad for your teeth
1. Dry Fruits
Dry fruits are rich in vitamins, proteins, and minerals, making them ideal healthy snacks. Packed apricots, raisins, figs, dates, and other dried fruits have a high fructose content. The concentrated sugar makes your snacking option ideal for oral bacteria. The sugary treats are also sticky, clinging to the teeth. The oral bacteria feed on the sugars, releasing an acid that erodes the enamel.
Tip: Remember to brush and floss immediately after enjoying your snack to remove any stuck sugar. You may also prefer the fresher version that is less sticky.
2. Diet Soda
Your healthier replacement may not contain any sugars but may have high acidity levels. The acids in the diet soda attack the enamel, dissolving and weakening it. The eroded teeth acquire a chalky appearance that eventually stains the teeth. The teeth also remain exposed to tooth decay.
Tip: Drink the diet soda together with a meal that will neutralize the acids. Experts also advise on using a straw to bypass your teeth.
3. White Wine
Red wine already gets a bad rap for the insistent tooth staining. You may not know that white wine also doesn't do a great job caring for your teeth. White wine contains acids that erode the enamel. This is the case, especially for individuals that love to swish the gulp around the mouth before swallowing. It provides more contact for the acids with your teeth, creating rough spots staining.
Tip: Always rinse your mouth with water after finishing your drink.
4. Juice
Fruit juices offer the full punch of vitamins and antioxidants necessary for optimal health. However, your glass of fresh juice may have a high sugar content, which is bad for your teeth. Research shows one cup of orange juice contains 21g of sugar, equivalent to half a coke can. Oral bacteria feed on the sugars, generating acids that eat up the enamel.
Tip: You may decide to take your fruit juice using a straw to minimize contact with the teeth. Whole fruits are also a better option, as the sugars remain trapped in the fiber.
5. Baby Bottles
Preventive dental care begins at infancy and continues throughout life. Your baby's primary teeth also need attention and care. It may sound convenient to put your baby to sleep with a bottle of milk, juice, or formula in their mouth. However, your baby might get used to it, bathing their teeth with sugars every night.
Tip: Keep the bottle out of the cot at night. You can also consult your pediatric dental clinic on the best ways to look after their teeth.
6. Barbecue Sauce
The holy grail of any grill seasoning in America is a bowl of hot barbecue sauce. The dark, hot, and sticky sauce may not be the best option when it comes to caring for your teeth. The sugars feed the bacteria stuck on your plaque, leading to tooth decay. It also sticks on your teeth, creating a safe-haven for the said bacteria.
Tip: Choose a low sugar BBQ sauce to elevate the flavors on your grilled meat. Remember also to brush and floss immediately after enjoying your ribs.
7. Swimming Pools
Nothing is as refreshing as taking a dip into a swimming pool under the intense summer heat. While most people take care of their skin and hair by taking a shower immediately after they come out of the pool, they never think of their teeth. Improperly chlorinated water may lead to Swimmer's Calculus after prolonged exposure. The chlorine causes mineral deposits on the enamel surface that eventually discolor the teeth.
Tip: Keep your mouth closed as much as possible while swimming. Ensure that your pool water has a well-balanced pH of about 7.2-7.8.
8. Stress
Dental experts say that anxiety, anger, and stress increase the chances of you grinding your teeth, especially at night. Bruxism, which is excessive teeth grinding, results in the wearing of the tooth surface. It may lead to chipping, tooth sensitivity, and extreme jaw pain.
Tip: Find ways to alleviate your stress and anxiety feelings. Local dental services can also provide a custom night mouth guard as a way of caring for your teeth at night.
9. Oral Piercing
Tongue, cheek, and lip piercings are an excellent way to express your style and remain trendy. However, before including piercings to your oral and dental makeover, remember that your mouth is full of bacteria that can cause infection and swelling. Your teeth can crack from biting the metal stud or repeatedly clanking against the tooth. The piercing rubbing against your gums may lead to inflammation.
Tip: The best way is to speak to your dentist before deciding on the new jewel in your mouth.
10. Cough Drops and Breath Mints
Cough drops contain high sugar levels. Sugar, whether from lozenges or hard candy, will feed the oral bacteria which produce acids. The acids dissolve the enamel, leading to teeth sensitivity and staining. You can suck on the cough drop for hours, increasing the contact time between the sugar and your teeth.
Tip: Find sugar free cough drops and breath mints. You should also rinse your mouth with water and brush your teeth at the earliest chance.
11. At-Home Whitening
Straightened teeth and pearly whites are essential ingredients for a beautiful smile. According to an AACD survey, 99.7% of adults agree that a healthy smile is socially significant. While teeth whitening toothpaste is fairly common, you may need to look out for brands with abrasive particles. Some chemicals can be harsh on your enamel, leading to erosion and staining in the long term.
Tips: Stay clear of whitening toothpaste and gels. The best alternative for caring for your teeth would be to go to the dentist for professional cleaning and whitening.
12. Alcohol
While you might enjoy your happy hour, the price you pay for imbibing might be higher than you anticipated. Alcohol can change the microbiome in your mouth by altering saliva flow in your mouth. Alcohol is a diuretic, leading to dehydration and a dry mouth. Saliva is vital for keeping the populations of 'bad' bacteria in the mouth in check. It also neutralizes harmful acids that may erode the enamel. A dry mouth can lead to plaque formation, gum disease, tooth decay, and loss.
Tip: Reducing your alcohol consumption can help you reduce the risks of a dry mouth. It is also essential to intersperse your beer bottles with glasses of water to minimize the diuretic effects.
13. Potato Chips
Who does not love the eternally satisfying crunch of salted potato chips? However, the crunch and grind of the chip in your mouth may lodge it between the crevices in your teeth. It may be worse for persons wearing braces. The saliva enzymes act on the starch, producing sugars that feed the oral bacteria. The acids dissolve the enamel.
Tip: If you prefer to satisfy your cravings with a bag of chips, always ensure that you floss afterward to remove the trapped particles.
14. Birth Control Pills
Oral contraceptives contribute to hormonal changes that may affect your gums. Caring for your teeth might become difficult when you have swollen and inflamed gums. In some cases, the pills may cause drying of the mouth, which may further complicate the situation.
Tip: You may need to consult your dentist before taking any birth control pills. Lower hormonal doses may also lessen the effect. Eat foods rich in antioxidants that can reduce the inflammatory response in your body.
15. Coffee
64% of the American adult population wake up to a cup of coffee every day. However, a cup of hot beverage may dent your efforts of caring for your teeth. The tanning acids may cause the yellowing of your teeth. The acids also erode the enamel, forming a rough stained surface that traps bacteria. The caffeine in dark brew may also cause drying of the mouth, leading to gum disease and tooth decay.
Tip: You may need to drink your coffee in moderation to reduce its effect on your teeth. You may also add milk to the coffee to neutralize the harmful acids.
16. Chewing on Ice Cubes
Some people have a terrible behavior of chewing on frozen cubes. What harm could it bring? After all, it is just natural and sugar-free water. However, crushing the ice cubes with your teeth can cause dental emergencies such as chipped, cracked, or broken teeth. It may also damage the porcelain crowns that you got.
Tip: Resisting the urge to chew on the frozen cubes is one way for caring for your teeth. You can opt to chew on sugarless gum instead.
17. White Bread
You may have to rethink your choice the next time you walk down the bread aisle. White bread contains a lot of processed sugars and starch. Salivary enzymes quickly break down the starch, forming a sticky, gummy paste in your mouth. The sticky bread pieces hide between your teeth, where harmful bacteria act on the sugars, producing corrosive acids. The acids may lead to gum disease and the formation of tooth cavities.
Tip: if you still need your share of morning carbs, choose whole wheat bread instead. It contains less refined sugars that provide food for the bacteria.
18. Diet Pills
Diet pills are popular weight loss supplements that offer one of the quickest ways to trim your waist. However, they may also be a fast track to gum disease and tooth decay. Like most over the counter drugs, the pills cause decreased salivary flow as a side effect. A dry mouth means less protection for your teeth against acidity and harmful bacteria.
Tip: A healthy balanced diet and exercise are the best ways to trim your weight. They may also be better at caring for your teeth.
19. Brushing at the Wrong Time
The American Dental Association recommends that you brush your teeth twice a day with a soft-bristled toothbrush for healthy gums and teeth. However, using the wrong technique and improper timing may do more harm than good. Brushing immediately after eating an acidic meal will only rub the acid on the enamel, causing more damage.
Tip: The time elapsed before brushing depends on what you take. Foods with high carbs and sugars may harm your teeth for up to 20 minutes after meals and may need immediate cleaning. You may have to wait 15 minutes before brushing after acidic meals.
20. Ignoring Dental Issues
This is actually one of the most important tips when it comes to caring for your teeth. Remember that your first sore tooth may be a sign of an underlying issue in your mouth. Most people tend to ignore the early warning signs, hoping the jaw pain will magically disappear. Pushing dental problems aside may cause the situation to worsen over time, resulting in the need for expensive restorative dentistry for simple teeth issues.
Tip: Visit your family dentist immediately whenever you have an issue with your teeth. It is also vital to keep up with your annual appointments.
It is essential to be aware of foods, drinks, and actions that may have a negative effect when caring for your teeth. You may not have to stress much about what you eat as long as you follow good dental hygiene practices.
The Good Dentist
It is not easy to find a dentist that you like and can highly recommend to your friends and family members. The Good Dentist provides you with information that will help you learn about dental care and hygiene, what to look for in a dentist, and we provide you with our insights on other significant dental topics!
January 2021
M
T
W
T
F
S
S
1
2
3
4
5
6
7
8
9
10
11
12
13
14
15
16
17
18
19
20
21
22
23
24
25
26
27
28
29
30
31
Archives